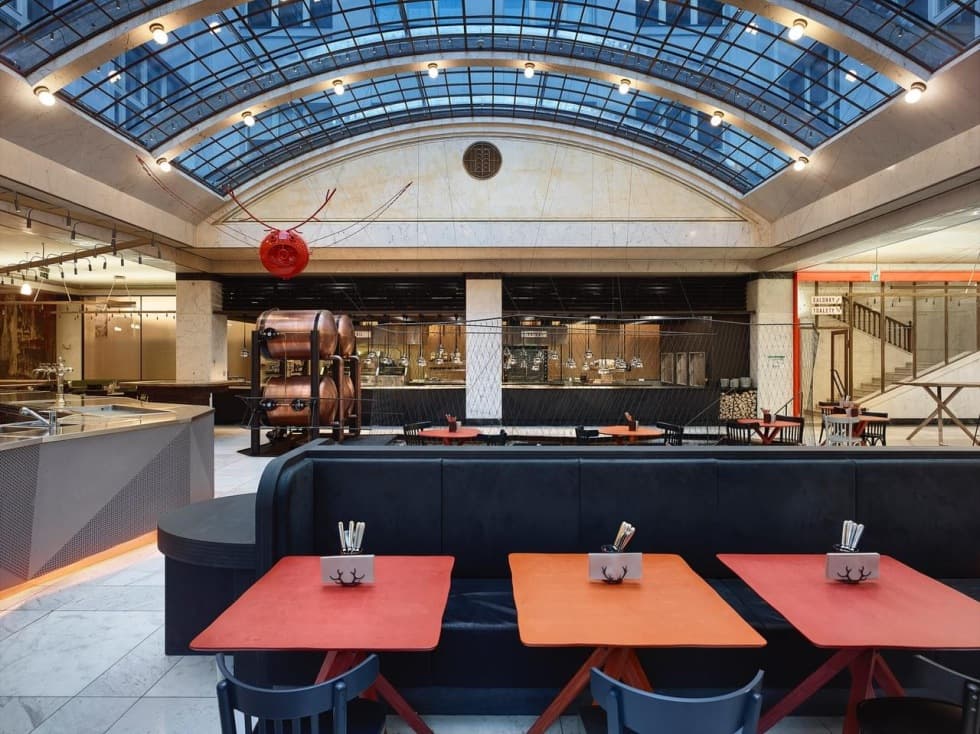 Červený Jelen ( Red Stag )
The Red Stag restaurant is situated in an amazingly reconstructed Sporck´s Palace. You can find there a fantastic combination of two themes – wildery – as hunting was the passion of earl the Sporck, owner of the palace, and theme of a Banque as the palace was reconstructed to Anglo-saxon banque with the largest bank vault within the period of the First Republic.
These two concepts and touches of the history give you a great opportunity to organize your event in an extraordinary ambiance with a capacity up to 1100 guests.
Traditional Czech cuisine with an innovative and modern interpretation is the first pillar of the menu. The menu concept was compiled by famous Czech Executive Chef Marek Fichtner and his team. The traditional Czech ingredients in unique and surprising combinations can be discovered in Red Stag restaurant.
The space was timelessly reconstructed through number of cubist elements following the architecture of the original house, the Špork Palace, and also the main protagonist of the Cubist style, architect Josef Gočár. The exposed construction of the glass dome and the light connection of all four floors are important conceptual elements creating the unique space.
6 meeting rooms on the private floor, the former offices of the bank can be booked individually for separate meetings or workshops as well as one space for the private events and parties.
The main floor of the entire space on the ground floor with an open kitchen, barbecue and rotisserie, is the area of the former bank hall. The space is dominated by a glass dome and it is a perfect place for your event with capacity up to 300 guests.

Style: Modern Czech Cuisine
Restaurant consists of 4 floors:
The Bank
The Vault
The Lounge
Meeting Rooms with Priate Bar
Capacity in all 4 floors: up to 1100 guests in total