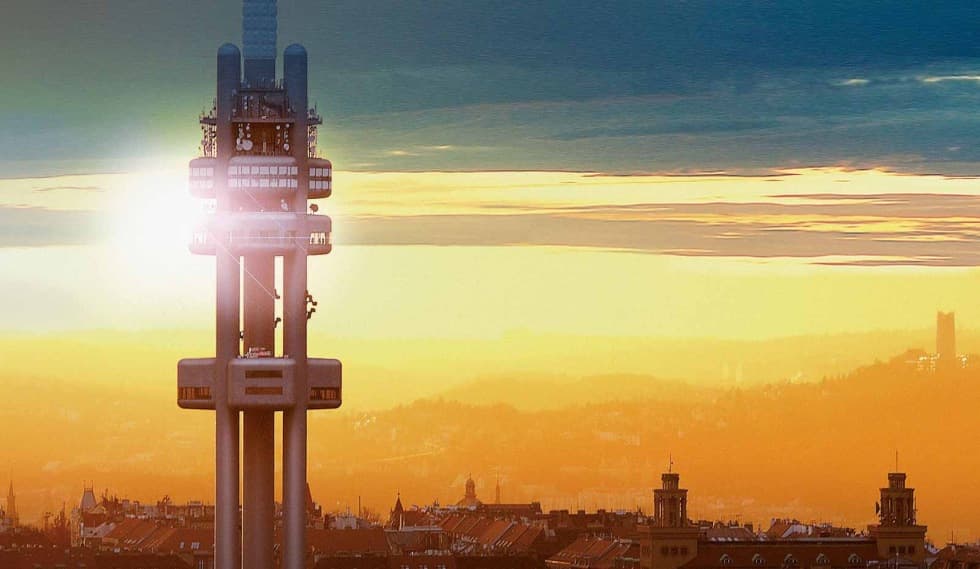 OBLACA Restaurant
A dining experience to remember
Oblaca is located at the Žižkov TV Tower, 66 metres above the city. This incredible restaurant offers, arguably, the best views of Prague. A fresh and locally-sourced menu is prepared to order and served by an attentive waitstaff. Oblaca's restaurant and bar showcase a thoughtful and progressive approach to food and drink. They deliver exceptional quality, the finest gourmet dishes and a wide variety of wines, hand-crafted cocktails and iconic Czech beer. The restaurant represents a unique combination of modern cuisine with a beautiful view of the metropolis.
Group dining event logistics
Once guests enter the tower on the ground floor, they will be welcomed by hostesses. Guests can leave their coats in the cloakroom. There are two high capacity elevators which will take your guests smoothly to the dining floor. It takes only few moments to transfer a group of 50-100 guests to the restaurant.
The restaurant floor consists of three rooms. One is used as a main restaurant, a second as a coffee room and last as a bar. All three rooms are connected through the entrance space.
The capacity of the restaurant is maximum of 55 guests for a sit-down dinner. There will be a few tables of 10 guests, and others of 4-6 guests. The restaurant can be easily privatised from the rest of the floor simply by closing the doors between the restaurant and the entrance space. Speeches, presentations and awards can be easily implemented into the dinner schedule.
For larger groups, it is recommended to utilise two rooms (the restaurant and coffee room) as dinner can be served in both of them. After the dinner, guests can mingle among the rooms and experience unique mixology cocktails in the local bar.
How to get to Oblaca restaurant
Our experienced event team recommends reaching this Prague restaurant by using luxury buses. Any size of bus can be used to transfer guests to this exceptional restaurant.
Prague's historic tram is another suggested mode of transportation. The nearest tram stop is located approximately a 10-15 minute walk from the Oblaca restaurant. Our experienced event managers will guide your group from the tram stop to the restaurant and will take care of the entire transfer.
Oblaca Restaurant In summary
Oblaca Restaurant is a great place to relax, enjoy a cocktail and superb international restaurant cuisine in a modern and elegant environment, with a breathtaking, 360 view of the city below. It's location is within greater downtown Prague, and the capacity is ideal for any mid-size corporate group.
Get in touch with us to find out what we can create in this space for your event or gala dinner. Our event managers know this Prague restaurant very well, including all logistical details.

Style: Casual Dining
Capacity: 110 seats in two rooms.
Additional capacity in bar area and entrance space
View: Prague - city / 380 degrees
Transportation: Bus or historical tram