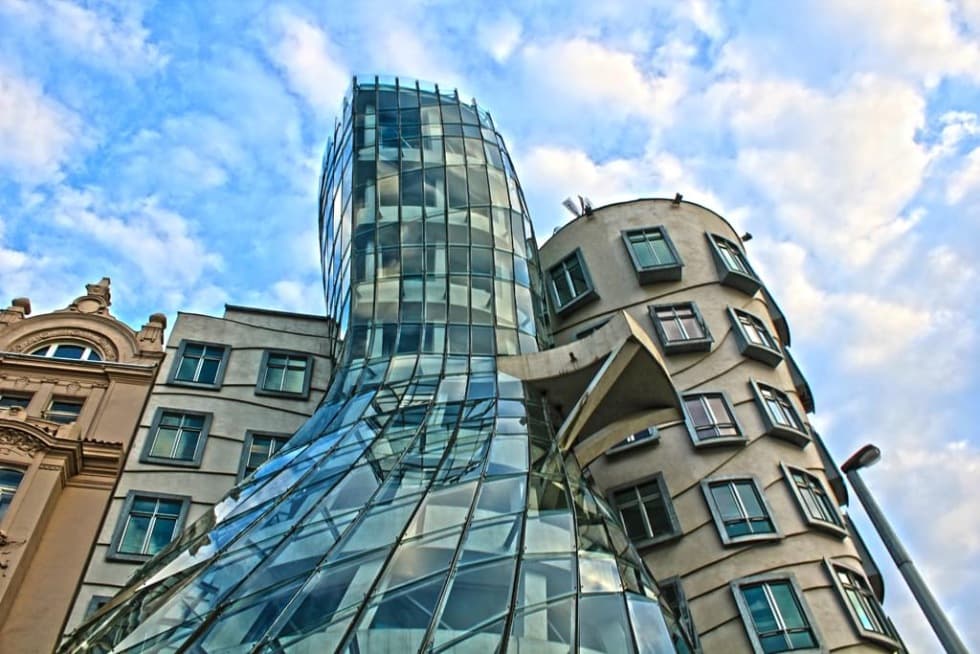 GINGER & FRED Restaurant
Experience a tasting menu from above
Located on the seventh floor of Prague's famous Dancing House, Ginger & Fred is a beautiful French restaurant. An International menu is on the list, however they are focused mainly on perfecting French dishes.
Ginger & Fred is located on the bank of the Vltava river, and on the top floor of what is arguably Prague's most famous masterpiece of modern architecture, surrounded by the magnificent Art Nouveau building facades.
Restaurant event logistics
The Ginger & Fred Restaurant is located in downtown Prague. Guests will be taken up to the restaurant by high capacity elevators. It takes only few moments to transfer the entire group to the restaurant.
This Prague venue offers up to 96 seats in three dining areas, which are all connected to each other. Welcome drinks on a roof top terrace prior the dinner are highly recommended. The entire restaurant space is very flexible, so live music, presentations and even show acts are all possible during your meal.
How to get to Ginger & Fred Restaurant
Due to its perfect location, there are no limits traveling to and from restaurant. Any size bus can stop directly at the foot of the Dancing House, with a tram stop just opposite, so an historical tram ride is also an option. Since the building is located next to the Vltava river, a privately rented river cruise is highly recommended prior your gala event in the Dancing House.
Ginger & Fred Restaurant in summary
Ginger & Fred is an ideal event venue for business and private lunches or company parties, whilst enjoying the unrivalled, unique and beautiful landscape of Prague. In fine weather you can enjoy your lunch, dinner or a glass of wine on the splendid terrace, where you can take in exclusive panoramic views of the city in all directions.
Organising any event in Ginger & Fred is always a pleasure. Get in touch with us to find out just how impressive and unforgettable we can make your Ginger & Fred event.

Style: Fine Dining
Capacity: 90 seats in several rooms
View: Vltava river, Prague Castle
Transportation: Bus, historical tram, boat