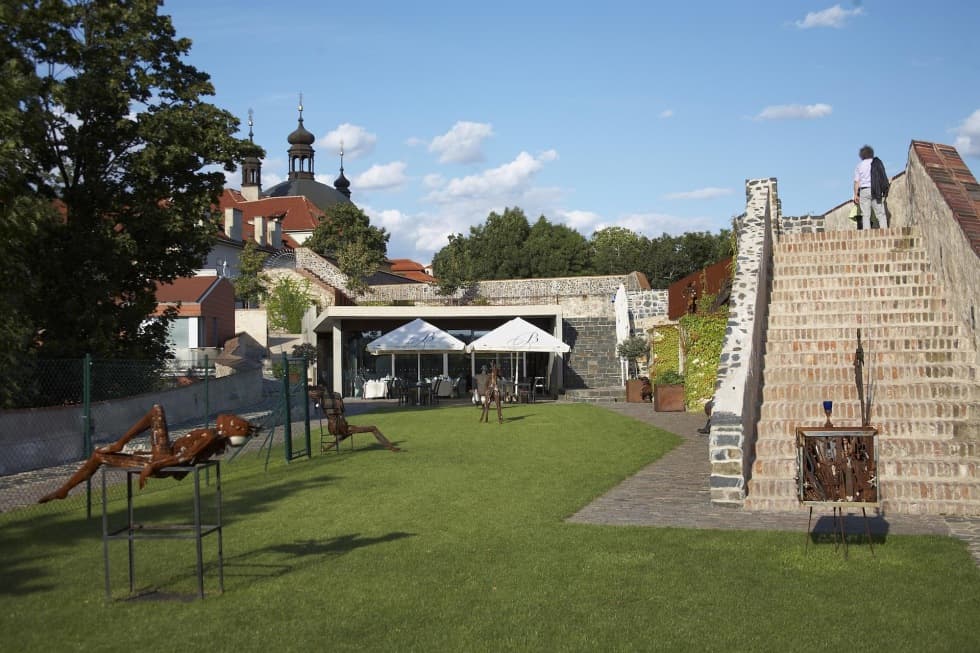 BASTION Restaurant
An exceptional gastronomic dining experience
Bastion Restaurant is nestled into an old fortification wall of Prague. It promises an excellent gastronomic experience, pleasant ambiance and a breathtaking view. The beautiful garden surroundings, combined with the fascinating view of the Vyšehrad church and dozens of other historic buildings, offer a gastronomic experience which is world away from that of a typical restaurant. The quality of the Bastion has been recognised by the Czech Gastronomy Awards.
Restaurant event logistics
The standard capacity of the restaurant is approximately 60-80 guests for a coursed dinner. The restaurant is very flexible - in addition to fine dining, it is ideal for cocktail parties or corporate party buffets.
The big advantage and exclusive use of this restaurant is in its connected garden. The garden can be utilised for any event occasion such as group buffet lunch or dinner, BBQ, corporate party, product launch and much more. When the garden is used, the Bastion can accommodate up to 500 guests. In the event that the weather is uncooperative, a flexible and tasteful tent set-up is available.
The entire restaurant, as well as the surrounding garden, can be booked exclusively for your private event.
How to get to Bastion Restaurant
Bastion Restaurant is located very close to the Prague city centre, near the Prague Congress Centre. We recommend using 19-seat buses, which can get directly to the restaurant. Larger buses can stop about a 10-minute walking distance away.
Bastion Restaurant in summary
The Bastion provides an exceptional combination of modern design, an historical fortification wall and a breathtaking garden. This makes it ideal if you are looking for something truly special.
If you are looking to flex your creative muscles, then this is the spot for your next event in Prague. Contact us to find out more.

Style: Fine Dining
Capacity: 80 seats inside
View: Vyšehrad church
Transportation: Bus