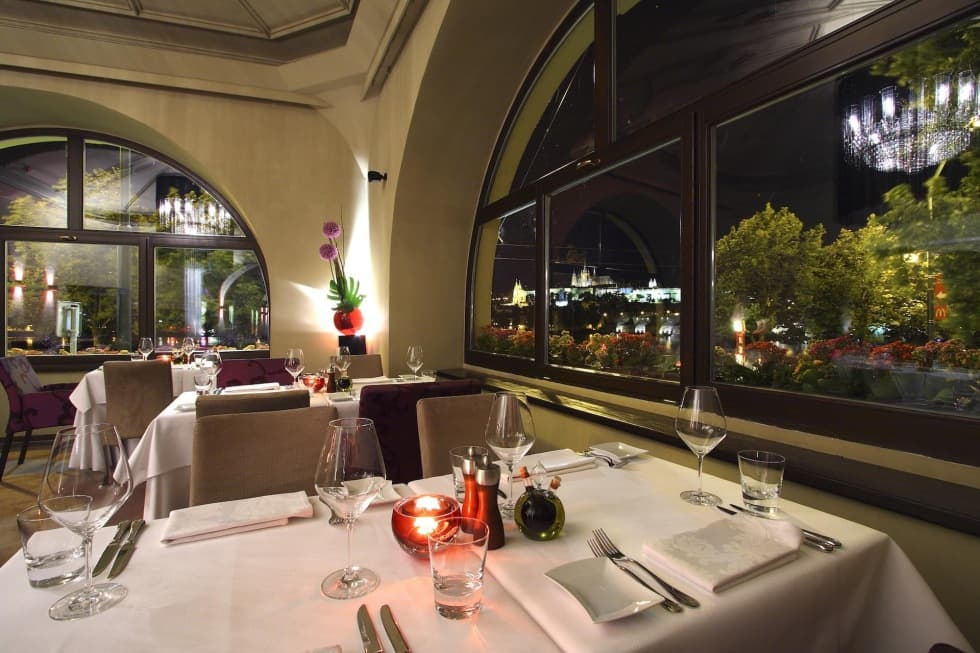 BELLEVUE Restaurant
A chateau-like venue for fine dining
Bellevue Restaurant is considered one of the finest restaurants in Prague. It has earned the reputation as being on the forefront of Prague's culinary emergence as Europe's new gastronomic hotspot. It is highly credited by both local and International critics alike for serving superb Czech and International cuisine in fine, elegant surroundings. The service is discreet, friendly and attentive.
Restaurant event logistics
Bellevue is located in the heart of Prague on the Vltava waterfront. It provides the most exclusive view of Charles Bridge and Prague Castle, and is very popular amongst corporate companies looking for a first-class group dining experience without compromises.
The restaurant comprises four rooms of different sizes. The largest room can accommodate up to 80 guests for a sit-down meal. The front room (with the nicest view) has a capacity of 40 guests and can be semi-privatised. The other two rooms can accommodate approximately 15-20 guests. Several rooms can be connected in order to create a private, group dining experience for up to 120 guests.
How to get to Bellevue restaurant
Due to it's location, only bus sizes of 30 pax or less can access the restaurant directly. Historical trams can also be utilised as a mode of transportation, as the tram stop is located directly in front of the venue. Our event managers can also walk guests back to their hotel after dinner, while enjoying the beauty of the historical sights nearby.
Bellevue restaurant In summary
Bellevue Restaurant is the shining star of Prague's culinary scene. Choosing this restaurant for your corporate group event is always guaranteed success.
Do you want to be treated as a star? Are you looking for a first-class group dining experience? Contact our management team to find out how we organise group lunches and dinners in this coveted Prague restaurant.

Style: Fine Dining
Capacity: 160 seats in several rooms
View: Vltava river, Prague Castle
Transportation: 30 seat buses or historical tram